Course Details
Weekend EPGP in Data Science, Business Analytics and Big Data in association with IBM
A True Holistic Data Science Program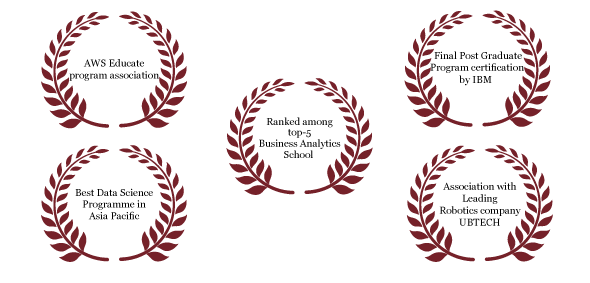 One can dig gold mines like Google, Facebook, Amazon, Uber, Ola if we are able to make sense out of big data which lead to the emergence of AI, Data Science, Big Data, Analytics, ML, AI other fields.

Every day, we create 2.5 quintillion bytes of data — so much that 90% of the data in the world today has been created in the last two years alone. This data comes from everywhere: sensors used to gather climate information, posts to social media sites, digital pictures and videos, purchase transaction records, and cell phone GPS signals to name a few. This data is big data and mainly constitutes unstructured data. This Big Data offers challenges in terms of storage and further analysis either by humans or automated systems. One can dig a gold mine if we are able to make sense out of big data which leads to the emergence of Data Science, Big Data, Analytics, Machine Learning, AI other fields.
Modern Data Scientists are Supermen with Crystal Ball
Data Scientists are supermen who tell stories out of the data, respective of the size of data: big or small. They answer questions like what's happening? What will happen? What we should do now? They use statistics, Data Science, Analytics, Machine learning, Deep Learning, NLP, R, Python, Hadoop, Spark to create Crystal Ball to predict the future, solve a business problem or find out the missing opportunities. Snapdeal, which has over 20 million subscribers and generates terabytes of data through the interactions that happen with customers in addition to a catalog of over 5 million, churns 15 million data points (related data set like a consumer shopping on specific days for a particular thing) within two hours. About 35% of its orders come from recommendation and personalized systems, and the conversion rate of such orders is 20-30% higher than normal orders, the company claims.
Post Graduate Program/Masters (PGP/MS) in Data Science, Business Analytics, and Big Data
Post Graduate Program (PGP/Masters) in Data Science, Business Analytics, and Big Data is India's first high-end data science program designed and delivered by Aegis School of Business, Data Science & Telecommunication in association with IBM and to train the new generation of data-savvy professionals.

This 11 months intensive program provides you intensive hands-on training to develop the necessary and unique set of skills required for launching a successful career in the fastest growing and intellectually stimulating fields of AI, Data Science, Big Data, Business Analytics, Predictive Analytics, NLP, Machine Learning, Deep Learning, Natural Language Processing, and Cognitive Computing. Students who earn a PGP in Data Science develop deep quantitative capabilities and technical expertise and are equipped to create business and social value by extracting useful insights and applying them in various industries by playing the role of Data Scientist or modern Business Analyst.
Highlights of the Program

PGP program Certification from IBM
Certification from IBM, the world leader in Big Data Analytics at the completion of the program.
AWS Educate program association
Association with Leading Robotics company UBTECH
Best Data Science curriculum
Program curriculum designed as per the Data Scientist's skills and competencies framework with the help of leading Data Scientists. This program has wide rage of core and elective courses which no other institute around the world offers. Check the list of courses at tab "Curriculum"
Ranked Among Top Five Business Analytics Courses in India
Ranked among the Top Five programs for Business Anlaytics in India. Check the ranking
True Data Science Program and NOT an MBA/PGDBM in Business Analytics
This Program is a core technology MS in Data Science program and NOT an inferior cousin of MBA/PGDBM programs in Business Analytics. This program lays down your foundation for serious Developer, Data Scientist Career or Big Data Advisory & consulting roles.
IBM Business Analytics Lab
IBM has set up an IBM Business Analytics and IBM Cloud Computing Lab in the campus. The program is delivered by IBM subject matter experts and the best Data Scientists from around the world.
Big Data Product Factory
Live Projects: work on live projects like Churn Predication, Call drop analysis from leading telecom; NLP projects, consumer analytics, sentiment analysis etc at Aegis Big Data Product Factory as part of the program.
Exposure to a wide range of Tech, Tools, and S/W
Hands-on exposure on R, Python, Machine Learning, Deep Learning, Natural Language Processing, Google Tensor flow, IBM Cognos Insight, Hadoop, Spark, Tableau, Machine Learning over Microsoft Azure, AWS, IBM Watson Analytics, Cognitive Computing, Business Analytics, Marketing Analytics, Operations Analytics, etc
CMC, Internship & Placement
Career Management Center (CMC) at Aegis facilitates all students' placement and paid internship opportunities. Paid internships is for 2 to 3 months with various companies to give them a real-life live experience which generally leads to final placement as role of Data Scientist, Manager Data Science, Business Analyst, Risk Analyst etc like Accenture, Atos, Deloitte, E&Y, PwC, Fractal, Angel Broking, Cybage, edelweiss, Teradata, HDFC, Ford Automotive, Mercedes-Benz, Bank of America, VM Ware, IBM, Aditya Birla, Suzlon, Eclerx, Aureus Analytics, Clover Infotech, Value Direct, Virtusa, Credit Vidya, Shzertech, Loginext, Persistent, L & T Finance, Mobiliya, Emmfer, Infrasoft, Impact Analytics, Eigen Technologies, Intelenet, Pentation, Ixsight, Softcell, Easy Farm, Exponentia Data Labs, Open Insights, Kryptoblocks, Bayer, Cuddle AI, Wipro, TechMahnidra, Cognizant, TCS, Reliance Jio etc.
Fresher Lowest Package: 6.5 lacs
Fresher highest Package: 13 lacs
Experience Candidates got over 100% hike on last Package. *For experience up to 7 to 8 years.
90% got Data Scientist Role
Paid internship for everyone for 2 to 3 months
*Aegis does not provide any kind of job guarantee
Course Modules taught by IBM
IBM subject matter experts teach courses like Business Intelligence using Cognos BI, Big Data Analytics using IBM InfoSphere Big Insight, IBM SPSS, Enterprise Performance Management using IBM Cognos TM1, Watson Analytics, Cognitive Computing etc
​Scholarships
Deans Scholarship for Women in Technology Leadership; Aegis Graham Bell Award Scholarship for Big Data Products; Data Science Scholar. Study Loan by HDFC Credila. Financial Aid for meritorious students having 80% plus in 10th, 12th, and 75% in graduation; CAT or GATE percentile 93% plus; GMAT score 720 plus; GRE Score 325 plus.
Globally acceptable Credit Structure
This program follows Globally acceptable 45 Credit Units for a master degree. In North America, any master's degree is min 36 Credit Unit. This program is spread over 9 months plus 2-3 months Internship or consulting assignment.
Skill for various industries & Functional areas
The curriculum caters to the skill requirements in various industries like eCommerce, Telecom, Banks, Computer Services, Education, Healthcare, Insurance, Manufacturing, Retail and other industries.
Diverse student profile
Aegis participants' are from around the world with experience ranging from 2 year up to 25 years from diverse industry and background.
Delivered by Best Data Scientist
This program is delivered by best Data Scientist engaged in real-life Data Science and Big Data Analytics projects from around the world.
World Class LMS on Cloud
Aegis uses world class Learning Management System (LMS) on a cloud called mUniCampus. All lectures, tons of study material, ebooks, business cases, video lectures available on LMS on the cloud as well as a mobile app.
Network with world Leaders, Best Data Scientists, and AI experts
Aegis organizes Aegis Graham Bell Awards (bellaward.com), Asia's largest DataScienceCongress.com DeepLearningSummit.com , meetups and Leadership speaker series which offers an amazing opportunity for students to network and learn from CEO's, CIO's, CTOs, Chief Data Scientists, world leaders, Best Data Scientists and AI experts.
AI and Data Science for Social Good
Aegis has set up a Center of AI & Data Science for Social Good for solving social issues problems using Data Science and AI.
Current projects:
Khozo: This project is to find a solution to the problem of reuniting missing children with their parents. Khozo is a mobile app that helps parents and the police department to find missing children quickly and efficiently by reducing manual efforts. This project was launched for Govt of Goa on 1st Feb2019. We are inviting researchers and industry for taking this project at the next level. Check details at www.khozo.org
Skills and Jobs trends analysis to help educators and policymakers for identifying the Skills and Jobs trends for designing courses and budget allocations for skilling based on data.
Meet Aegis Data Science Rock Star students of PGP in Data Science, Business Analytics & Big Data
Demystifying AI, Data Science, Business Analytics and Big Data
Download Aegis Business Analytics and Big Data Brochure